Ghost towns are always cool.  I found these great photos by Len Chapman whilst doing a bit of internet beachcombing, and had to look the place up.  As usual, click on photos to enlarge.
As it turns out, Tokomaru Bay is a beautiful but desolate 8km arc of beach, 92km north of Gisborne on SH35.  The township of about 400 residents is at its halfway point, where the highway is nearest the shore, but the photos were taken at the northern end.  Up there, tucked inside the rocky headland, are some ruined factories, and a long, crumbling, hockey stick shaped wharf.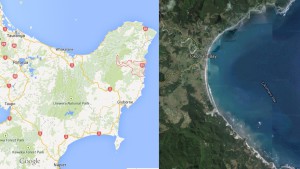 A century ago Tokomaru Bay was, believe it or not, a fairly major port, catering to over a hundred ships a year.  It had a booming farming trade, a freezing works, a sawmill, a brick works, and a soft drink factory.  All this industry went in and out by boat, with coasters ferrying the products up the coast to Auckland and dropping of supplies.  The constant activity led to the formation of Tokomaru Bay's own harbour board, and a greatly upgraded wharf – a 300m structure had rails embedded in the concrete for the small locomotive that ran the short distance from the freezing works to the port.  Other facilities included the Te  Puka Hotel (now Te Puka Tavern), a tennis club, a local newspaper, and two schools, and – after the war – a picture theatre. 
By the 1960's it seems as though only the hotel and one school was left, and the wharf and the shells of the factories are all that remain of the town's season in the sun.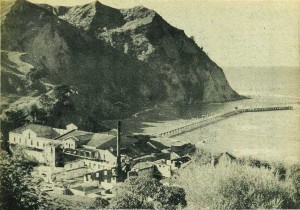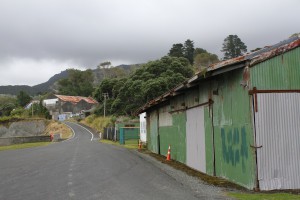 A couple of kilometres south, the town itself is not quite abandoned but many businesses look as though they've been vacated for decades.  Still the place must attract a few overnighting tourists, we have some backpackers-type accommodation, a motel, and a Four Square to stock up on your supplies.