For a winter weekend away a ski trip to Methven and Mt Hutt is well worth the effort. Direct flights into Christchurch makes this a quick journey from anywhere in New Zealand or Australia. The exchange rate means an added bonus for Aussies as everything is currently 20% cheaper in NZ Dollars. Methven is only a 90 minute drive from Christchurch which is home to some great winter attractions. Our Christchurch car rental branch has all types of affordable rental vehicles to get you there safely.
Canterbury in winter is something special, with roaring fires to enjoy, clear bright days, snowy mountain tops and getting rugged up for the cold. Everything the locals love about the South is evident, and almost celebratory, like "we have been waiting for it". Weekend trips to the slopes are all within a short drive and there are plenty of ski fields to chose from. This is so different to heading to the North Island ski fields from either Wellington or Auckland. The locals revel in this luxury, and almost take it for granted whereas in the north we need to put 4 to 5 hours aside when driving to the ski fields.
Just 30 minutes from Methven, Mt Hutt has a three metre base, which has been unheard of this early in the season over the last few years. With flights to Christchurch quick and quite cheap you can be on a Canterbury ski field in no time, and the benefits are fewer crowds, drier powdered snow and the fantastic visual backdrop of the southern alps. Chances are there will be less rain and a lot more snow.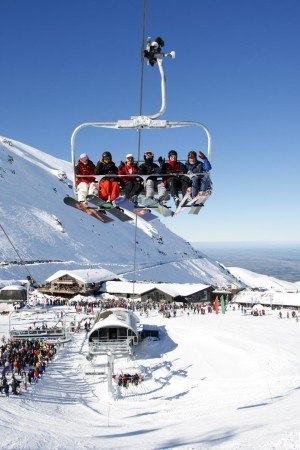 Methven has some great places to stay for the younger set with backpacker accommodation and beds starting from as little as $25.00 per night. A recommendation from a local is the Bunkhouse and Alpenhorn. There are bars and restaurants to finish off your day, offering hearty meals, and luscious local wines. The Steel-Worx has DJ's and great atmosphere especially if you like music and dancing. Other places for nightlife include the Blue Pub and The Lodge. Methven also has it's own movie theatre, Methven Cinema Paradiso, playing indie films and the latest blockbusters. If you're after more adventure, a jet boat road on the Rakaia River is a must. The shallow rivers that run across the Canterbury plains are worth a trip down.
Spend a day or two in Christchurch if you have time. Shopping for winter woolies and all things snug is much better than in the north, as it is generally colder down south. There are some really innovative retail outlets and restaurants popping up around Christchurch post quake. Check out this post on what to see and do in Christchurch. And if you want more of the winter theme visit the Antarctic Centre where you can experience an antarctic storm and mess around in the snow in the polar room.
The Rugby season is in full swing so on 5 July why not head to the hotly anticipated Crusaders vs Chiefs game at the AMI stadium. There's nothing like seeing the passionate Crusader supporters at a game. You'll also spot several All Blacks playing including, Dan Carter, Israel Dagg, Keiran Reid and Aaron Cruden.
Canterbury Ski Car Rental
Our Christchurch car rental branch has all types of rental vehicles for the ski buff including 4 wheel drive rental cars to get you up the slopes safely or Toyota Hiace minivans for larger groups. Just make sure you hire snow chains for $35.00. If you require them later you will have to pay much more elsewhere and may not be able to get the right size to fit your hire car.
Related Articles:
Ski Car Rental New Zealand – explore popular ski fields
Safe Winter Driving in New Zealand