The heart of the South Island, Canterbury is New Zealand's largest region. It boasts a breathtaking 42,000 square kilometre expanse of tussock grasslands and lowland rivers, climbing from the Pacific west coast into the Southern Alps, the island's snowy spine.  In part one of our feature, we make inroads into the outback…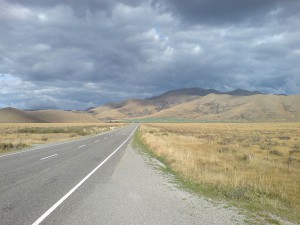 The Canterbury region is blessed with many attractions, some of them commercial, and perhaps the best of them – the everchanging landscapes – free. We invite you on a tour, aimed at helping the northbound traveller get the most from this magnificent region. Southbound tourists feel free to read this article backwards…Let's start at your port of entry.
Conveniently central to this scenic wonderland is the city of Christchurch, shaken but not stirred, to coin a terrible cliché, by the earthquakes of 2010-12. Entry to New Zealand at Christchurch International Airport over the summer season will allow you to take advantage of the many rental car relocation specials available to customers ending their journey in Auckland.  In the case of NZ Rent a Car, the best deals can usually be struck by inquiring with the returning branch, in this case one of the Auckland offices, as they are the ones who will know what vehicles they need back, and when.
Christchurch is the South Island's biggest city, with a population of just over 340,000. It is one of only four cities in the world (after Philadelphia, Savannah, and Adelaide) to have been carefully planned using the same layout of a central city square, four complementing city squares surrounding it and parklands embracing the city centre. In 2006 Banks Peninsula, on the northern side of Lyttleton Harbour, was officially incorporated into the city, effectively tripling Christchurch's land area but only adding about 8000 citizens to the population. It is home to the Avon River, which meanders inland like a child's crayon doodle on the city map, and hiring a paddle boat or kayak is a great family diversion if you are staying in town.
International Antarctic Centre
An obvious first stop, as it is within walking distance of Christchurch airport.  Christchurch, and its port of Lyttelton, has a long history as an official gateway for Antarctic exploration. Both Ernest Shackleton and rival explorer Robert Falcon Scott used Lyttelton as a departure point for expeditions over 100 years ago, and in the central city there is even a statue of Scott sculpted by his widow.
The International Antarctic Centre provides both base facilities and a museum and visitor centre focused upon current Antarctic activities, and has become a major tourist attraction since opening in 1992. At the visitor centre you can visit 'Antarctica' the snow and ice experience, survive an Antarctic Storm, learn about life in modern day Antarctica and Scott Base, and hang out with Little Blue Penguins! You can also ride on the Hagglund all-terrain vehicle and take a simulated 4D cruise.
Christchurch Wildlife Experiences
Just a few minutes drive from the International Antarctic Centre, or Christchurch airport, you can find two great wildlife parks. An ideal stop for families and animal lovers, either take your pick, or make time for both and savour the differences between them.
Orana Wildlife Park is New Zealand's only open-range zoo, and aims to provide many endangered animals with habitats as close as possible to their natural environments. Streams, moats and banks are used in place of fences wherever possible to allow visitors to see each species "in the wild". Visitors can also interact with animals through fifteen hosted feedings per day.
Willowbank Wildlife Reserve is a smaller park, owned and operated by the Willis Family for forty years. Its residents include rare native birds such as flightless kiwi and takahe, kea – the South Island's alpine parrot – and a breeding colony of the prehistoric reptile tuatara. Guided behind the scenes tours give a rare glimpse of their kiwi breeding programme. Willowbank also features the Ko Tane pre-European Maori village – including a traditional Maori meeting house – which has an interactive Maori evening cultural experience.
Akaroa & Banks Peninsula
South of Christchurch and about 90-minutes by road, Banks Peninsula offers its own rich wildlife experiences in natural surroundings.
Akaroa, at the tip of the peninsula, is a coastal village on the shores of a large volcanically-formed harbour of the same name. This harbour and shore are home to rare Hector's dolphins, little blue penguins and New Zealand fur seals. Black Cat Cruises offer year-round swimming with dolphins in the sheltered harbour waters, and for a small town there are a surprising number of operators running harbour cruises, jet boat rides, 4WD tours and other activities.
Banks Peninsula is the South Island's most prominent volcanic feature, the eroded remains of two volcanoes.  It presumed to have once been almost entirely native forest, but extensive fires and logging in the 19th century left little more than 1% standing.  Nowadays, Banks Peninsula's relatively bare volcanic landscape is popular with walkers, cyclists and kayakers, and companies such as Tuatara Tours run a three-day 42km guided walking tour that includes accommodation and food, while local farmers offer farm accommodation for independent walkers on Banks Track.
For other activities in Christchurch the following posts from our blog may be of interest here, here, and here.
Methven & Mount Hutt
Leaving Christchurch we head for Methven, just over an hour inland.  A quiet rural township over the summer months, in winter it is Canterbury's premier ski resort, servicing the nearby (3o mins) Mount Hutt as well as six other ski fields.  Consequently many of the local businesses are geared toward the winter influx of heavily muffled skiers and snowboarders, however the town also offers a number of alternative attractions, such as hot air ballooning, golf, and horse trekking.
Mount Hutt itself caters for a wide range of skiers, it has the largest ski-able field area in the South Island, the longest commercial season (June to October) of any major NZ ski field, and is known for its consistent snow.  Consistent though the snow is, the steep 13 km access road can be prone to closure in poor weather, giving it the nickname "Mount Shut".
In warmer months, nearby Rakaia Gorge has a 10km walkway through forest, scrub, and along ancient terraces hewn out by rivers and glacial action.  You will encounter abandoned coal mines, the ruins of a home-guard fortification point, and spectacular geological areas, showing lava flows of rhyolite, pitchstone and andesite.  Jet boats also offer a high-speed sightseeing alternative on the Rakaia River.
Lordly Locations
Much of the filming of Peter Jackson's Lord of the Rings took place in this part of Canterbury, including the set for Edoras, built on the sheer side of Mount Sunday, in Ashburton's high country.  Nothing is left of the movie set, but the location is still worth checking out for its own sake. Further inland (see MacKenzie Country below) near Twizel, Jackson filmed the battle of the Pelennor Fields on the vast grasslands.  This location is on a private sheep station, however tours can be booked in Twizel, or online here.
MacKenzie Country
Southbound now, we enter MacKenzie Country, a huge, desolate basin of high-country farmland bounded by the Southern Alps in the west, and the Two Thumb Range in the east.  Named after James McKenzie, a Scottish immigrant, shepherd and sheep rustler (thief), who herded large numbers – possibly thousands – of stolen sheep into the then-unpopulated area in the 1850's.  Stories of his repeated prison escapes confirmed him as a New Zealand folk hero, and the barren but newly publicised region was soon divided up into sheep stations and named in his honour.
Still not over-populated by anyone's measure, MacKenzie Country is comprised of only five settlements (Lake Tekapo, population <500; Mount Cook Village, population <150; Twizel, population <1,000; Omarama, population <400 and Fairlie, population <800), however, its huge glacial lakes and snow-capped mountains are a tremendous draw for tourists and skiers.  Smaller local ski areas include Ohau skifield near Omarama, and Roundhill and Mount Dobson Ski Areas at Lake Tekapo.
Due to its clean, dry and dark sky, the Mackenzie Basin serves as an important area for New Zealand-based astronomy, and has been designated a Dark Sky Reserve – the first in the Southern Hemisphere, and the largest in the world.  Local ordinances limit the use of electrical lighting at night.  Lake Tekapo is home to the nation's premier astronomical observatory, the University of Canterbury's Mount John University Observatory, and astronomy-related tourism is an increasing contributor to the area's economy. 

At MacKenzie's western edge you can find Aoraki/Mt Cook, New Zealand's highest mountain.  Surrounded by Mt Cook National Park, and with glaciers to the east and west, it is an essential tourist stop, and magnificent in every way.  For those staying over, accommodation can be found in Mt Cook Village, a tiny settlement about 7km from the mountain.  Mt Cook is also the starting point for the Alps 2 Ocean Cycle Trail, a 300 km ride descending a total of 780 metres and ending at the Pacific Ocean in Oamaru.  Still a work in progress, the trail is suitable for all ages and offers a mix of both on and off-road riding, with easy grades.
At this point any self-respecting traveler doing even the most cursory tour of the South Island will want to nip down to the Great Lakes of Queenstown before beginning the trek north.  Check back for our Queenstown visit soon.  So we leave sparse, spectacular Canterbury behind for now, but will be revisiting it when fair winds and the reassuring intonations of our Sat-Nav's steer us north again.  Thanks for reading…