The Bungee Jump, or Bungy as it's known in New Zealand, was pioneered (illegally) by the Oxford University Dangerous Sports Club in the late-1970's.  However, Kiwi entrepreneur Alan John "AJ" Hackett can certainly take credit for establishing the sport as a global tourist attraction.  Just a few months after his first experimental local leap from Auckland's Greenhithe Bridge, Hackett gained international infamy in June 1987 by bungying (also illegally) off the Eiffel Tower.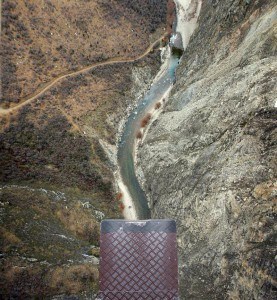 Returning to New Zealand he and partner Henry van Asch promptly launched the world's first commercial bungy operation, AJ Hackett Bungy, in a sense launching the concept of New Zealand as an adventure sport destination.  It is a reputation which draws thrill-seeking tourists in their twenties and thirties from all parts of the globe, and one that New Zealand spends a great deal of money capitalising on. 
   There are currently eight bungy jumps operating in New Zealand, four in the North Island and four in the South.  All can boast spectacular views and strict safety regulations, the points of difference are likely to be down to personal choice, convenience of the location or access, and proximity to other attractions.
   We set out to compare the salient features of each one, hopefully helping you choose the ultimate location for your ultimate thrill.  After all, you only want to do it once. 
Don't you?
Let's begin with the North Island.  All prices in NZ dollars, by the way:
AUCKLAND: AJ Hackett Bungy – Auckland Bridge Bungy and Climb
Established in 2003 by Henry van Asch, temporarily estranged co-founder of AJ Hackett Bungy, the jump is a 40 metre drop from a specially constructed pod underneath Auckland's iconic Harbour Bridge.  You can choose whether you wish to be dunked into the Waitemata Harbour or perhaps only touch it.  They offer a variety of bungy ties – full harness, ankle tie, or tandem jump – and also conduct a 90 minute walking tour of the bridge's steel catwalks as a separate attraction.  The brochure claims, in capitals, "THE BEST BUNGY JUMP IN THE NORTH ISLAND".  So there.
Quick Summary
Height: 40 metres
Price: Adults $150 including T-shirt and certificate, spectators $20 as bridge access is limited
Website:  http://www.bungy.co.nz/auckland
ROTORUA: Agroventures Adventure Park
Agroventures is located in the small haven of Ngongotaha, just north of Rotorua.  They have the advantage of being home to five extreme activities including bungy, jet boating, a sky swing, plus the world's only racing pedal-powered monorails and New Zealand's only wind tunnel.  If you wish to jump but think you have nerves of lukewarm pasta, rather than nerves of steel, Agroventures offer to pair you with an experience jumper.  Online media states: "NZ's Best Value Bungy Jump!"  It is the cheapest.
Quick Summary
Height: 43 metres
Price:  $109 including certificate, approximately 10% discount for online bookings.
Website: http://www.agroventures.co.nz/
TAUPO:  Taupo Bungy NZ Ltd
These guys offer both a bungy and The Cliffhanger, which is an extreme swing released from a cliff face overlooking the Waikato River.  It begs the question, "are you a swinger?"  In operation since 1991, and with over 325,000 jumps to date, the bungy itself is from a catwalk protruding from the cliff top.  This is NnahZ's highest water-contact bungy, but you can choose from a "dry" jump, water touch, or full immersion, and many configurations are available including solo and tandem jumps. 
Quick Summary
Height: 47 metres
Price: $169
Website: http://www.taupobungy.co.nz/
TAIHAPE:  Mokai Gravity Canyon
Gravity Canyon is located alongside the Rangitikei River deep within the Mokai Canyon, and offers three extreme activities. You can choose to bungy, freefall by swing above the mighty Rangitikei River, or ride the flying fox (zipride), which at 1.1km long and speeds of up to 160kph, is among the fastest in the world.  In operation for sixteen years, the bungy is New Zealand's highest bridge jump.  A big plus is that after the jump there's no walking, they just load your trembling carcass into a water-powered chairlift, enabling you to enjoy all the same scenery in reverse, and much slower.  The hydro-lift is available as a separate ride for those seeking less hair-raising forms of entertainment.
Quick Summary
Height: 80 metres
Price: $179
Website: http://www.gravitycanyon.co.nz/ 
And so we venture south for the remaining four – three of which are in Queenstown, the home of extreme adventures.  These include the world's first bungy business and Australasia's highest leap – the Nevis.
CANTERBURY: Thrillseekers Adventures
Another one-stop-shop, Thrillseekers Adventures is located about 90 minutes drive north of Christchurch in Hanmer Springs, overlooking the Waiau River. They a long list of attractions, let's see: bungy jumping, jet boating, river rafting, quad biking, kids quads, paintball, and claybird shooting.  They also have a licensed café on site.  The bungy jump is off the 135 year old ferry bridge over Waiau river, and afterward you are lowered into one of the jet boats and delivered back to the shore. 
Quick Summary
Height: 35 metres
Price: $169 including T-shirt and certificate
Website: http://welcomeaboard.co.nz/thrillseekers/
QUEENSTOWN:  AJ Hackett Bungy – Nevis Bungy
Set an epic 134m above the stark beauty of the Nevis River, this is (by a considerable margin) the highest bungy in New Zealand or Australia, and the Nevis Swing is the largest in the world. Located 45mins from Queenstown, Nevis Bungy drive you out to the site in their 4×4 buses, so need to allow a minimum of 4hrs for the round trip journey, and access to the private property is via their buses only.  The jump (solo only) is from a gondola suspended over the river, and the freefall lasts over 8 seconds.  One thousand and one…one thousand and two…
Quick Summary
Height: 134 metres
Price:  $275 including transport and T-shirt, spectators $50
Website:  http://www.bungy.co.nz/the-nevis/the-nevis-bungy
QUEENSTOWN: AJ Hackett Bungy – Kawarau Bungy
This jump, off the historic Kawarau bridge, is AJ Hackett Bungy's original venture, the world's first commercial bungy jump, and the beginning of a global franchise.  Tandem jumps and water touches or immersions are available, and there is also a 130 metre zipride.
Quick Summary
Height: 43 metres
Price: $195, children aged 10-14 $145, including T-shirt and certificate
Website: http://www.bungy.co.nz/kawarau-bungy-centre/kawarau-bungy
QUEENSTOWN:  AJ Hackett Bungy – The Ledge
From a platform 400 metres above Queenstown at the top of the Skyline Gondola, The Ledge offers both a swing and full body harness bungy jumping.  Because your ankles are not tied together this means you can choose your own jump style, and they even have a short runway so that you can make your exit in style.  The Ledge also offers New Zealand's only night jump, but just in the winter.
Quick Summary
Height: 48 metres
Price: $195, including T-shirt
Website: http://www.bungy.co.nz/the-ledge/the-ledge-bungy