Located just below Auckland, the Waikato region is famous for its mountains, plains and forests. Towns such as Te Awamutu and Hamilton welcome you for an extended stay, and there are plenty of day trips to help you see the most of this picturesque area. Hit the road in a Hamilton rental car and explore some of these great destinations.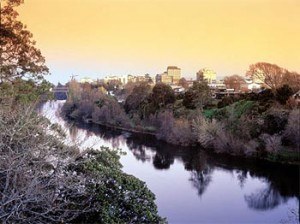 The Firth of Thames is the place to be if you are an avid birdwatcher. During October arctic migrants finish their 10,000 km journey from the upper most reaches of the globe and arrive to spend the summer. Likewise, South Island birds take off to return home to their summer feeding and breeding grounds, creating huge movements of birds in massive number.
The Maungakawa Scenic Reserve was a historically active place for Maori, with pa and important parliamentary buildings nearby. With further history as farmland, a homestead and even a tuberculosis sanatorium, the area has an interesting past. Now the shell of the house has mostly been overrun, and it is simply a peaceful place with a memorial to Michael Christian Gudex for contributions to Horticulture.
The Waikato wetlands are home to unique birdlife and plants and are best accessed by rental car, although you can also go on foot or boat as not all reserves have easy access. If you have an appropriate license you can fish in most areas, but it's important to observe the rights of any local landowners you may intrude on.
The Kauri Loop track is a 2 hour return walk through native bush and ancient kauri forest. Alternatively, take the 40 minute walk to the kauri grove, where you'll find a large kauri tree in its natural setting. Climb to the top viewing point for stunning scenic views, or head to the Hakarimata Walkway for views out over Hamilton city.
The Waikato region offers a host of natural wonders to explore at your leisure in an affordable rental car.
View more Hamilton attractions and activities and check out our Hamilton Travel Itinerary for more travel ideas.
Waikato Travel
Getting around the Waikato region is easy with a Hamilton rental car and there are plenty of options for you to choose from.
New Zealand Rent A Car has car rental locations throughout New Zealand and the North Island, including a handy Hamilton car rental depot, offering a range of reliable affordable rental cars to suit your budget.
Related Articles:
Hamilton Car Rental Road Trips
Hamilton: Our Top 5 Tourist Attractions