The Waitomo Caves are long and intricate underground cave network – but what really makes them famous is the spectacular population of glow-worms, who illuminate the darkness and create a dazzling galaxy throughout. There are many ways to explore depending on your level of fitness and desire for adventure. It's a truly magical destination that is well worth the trip.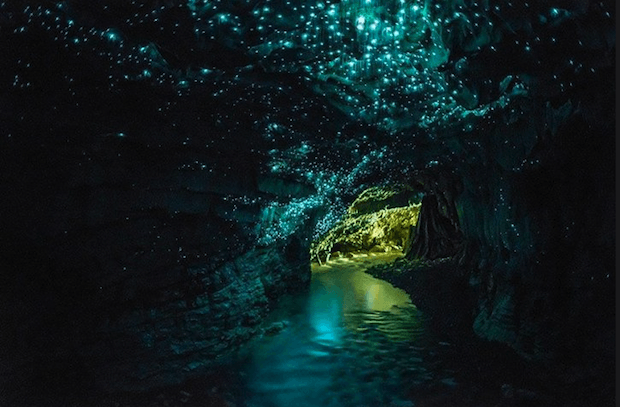 About The Caves And Glow-Worms
The Waitomo caves are a limestone cave network extending deep into the earth. Originally formed when the area was deep under the sea, the caves are built from fossilized corals, fish skeletons and seashells put under enormous pressure to form solid rock. This was then exposed to the air as the sea floor lifted, which gave chance for cracks to form and become widened by flowing water. The Maori name Waitomo means "water flowing through rock", reflecting the structure's origin.
The caves themselves are beautiful natural structures, filled with stalactites and stalagmites. However the true attraction is the huge population of glow worms that cover the ceiling and walls of the cave. They form a glittering mass, and the glow is a natural bioluminescence caused by a chemical reaction. They require dark, damp conditions to thrive, which is why the Waitomo cave network is a perfect environment for them. They used to be much more widespread, but changes to the landscape caused by deforestation has reduced the size of the populations. The glow-worms hang down long glowing threads to catch insects that they then absorb and eat.
The species of glow-worm found in Waitomo is endemic to New Zealand, found nowhere else in the world. It's definitely worth a stop to see a once-in-a-lifetime natural wonder.
Where The Caves Are And How To Get There
Located just over two hours south of Auckland and two hours west of Rotorua, the Waitomo caves are an essential pit-stop for anyone travelling through the North Island. They're located on Waitomo Caves Road, around 3km after you turn off from State Highway 3.
How To Explore The Caves
In most cases, you will need to enlist a service in order to explore the glow-worm sections of the caves fully and safely. The cave network itself is quite sprawling and there are ways to explore it from the surface, but the glow-worm caves are deeper underground. The caves can be dangerous for those not experienced at cave navigation or climbing, so you should not try to explore on your own. There will be warning signs approaching a cave entrance, and cave streaming is not recommended without an experienced guide. Thankfully there are plenty of these in stock at the local information centre where you can buy tickets for different tours of the cave. Depending on the level of thrill that you're after, there are different options you can choose to explore. Not all of them focus on the worms – Waitomo offers a formidable caving network that draws cave-lovers from all over the world to explore.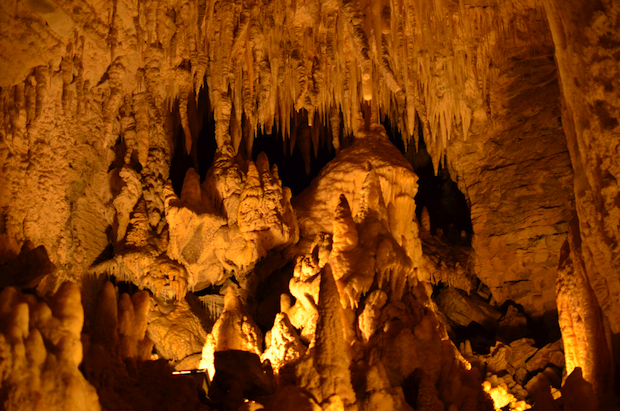 Cave Boat Tour
An easy and gentle way to see the glow-worms is with a boat tour, where a guide will bring you through the calm waters and explain the worms' habitat and what makes them glow. You'll be able to see the stalactites and stalagmites that line the cave, and don't have to squeeze or get wet trying to navigate the cave! This is ideal for children, the elderly or those who simply don't enjoy physical activity or thrill-seeking as much. However it can be quite cold in the caves, so warm clothing is recommended.
Abseiling
For those who want to explore caves in a more dynamic way, abseiling is a great choice. Abseiling is what many consider the fun part of climbing – going down – with none of the hard work getting back up again. It definitely requires a head for heights and some body strength as you lower yourself down however, so it shouldn't be considered an easy way to explore. It is good for those who cannot swim, however, and want to stay dry while exploring.
Rafting and Tubing
For those who like an exciting ride, rafting and tubing are great options for exploring the caves. With several tour company options available, you can choose how long you want to go for – and how extreme you want to be. Rafts are larger and require everyone to work together to paddle through the cave, while you can ride a tube on your own and are responsible for keeping yourself upright. You're provided with lifejackets and flotation devices and will be accompanied by an experienced tour guide, but participants will probably enjoy the experience more if they know how to swim. You will also be drifting through some low-ceiling cave spaces, so those with claustrophobia should be warned.
Climbing and Exploring
If you want a thrill but don't want to get wet, there are a number of dry cave tours available also. These will often offer a combination of abseiling, hiking, squeezing and climbing, and should be attempted by those with a reasonable level of fitness to start with. You'll also need warm clothing and good footwear. Those with fears of heights or enclosed spaces may not enjoy these tours, as you'll be required to descend through huge open caverns as well as squeeze yourself through narrow cracks in the rock. However you will be accompanied by an experienced tour guide at all times, so if you want to push yourself to step outside your comfort zone, this is a unique opportunity.
Facilities at the Caves
When you arrive at Waitomo, there's a small township with a cave information centre where you can buy tickets for different activities, as well as learn about the cave system. There's also a cafe and places to stay nearby, for those needing to rest and restore themselves.
The Waitomo caves are a unique experience, both a thrill and a natural wonder in one. They're definitely worth the visit for a chance to see something you can't find anywhere else in the world.