Some of the best views in New Zealand can be had while wielding a golf club. I am no golfing expert but while browsing the web I have found that some of the best golf courses in New Zealand are also sited at some of the most beautiful places in the country. No matter where you start your journey you will find a NZ Rent a Car branch with a vehicle to get you out and about and the locals can point you in the right direction to some of the world's most beautiful golf courses. Of course all golfers in New Zealand have their favourites. In New Zealand we have 393 golf courses and this is the second highest per capita in the world behind Scotland. I am sure that they are beautiful in Scotland too, but maybe the climate will be a little nicer here.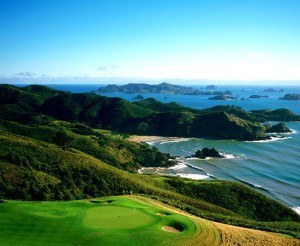 Heading north in spring is a good option and one of the most highly rated golf courses internationally is Kauri Cliffs. Apparently one of the toughest tests in golf, it also comes with stunning views of the Bay of Islands. Kauri Cliffs is rated in the top 50 golf courses of the world. You can also stay at the Kauri Cliffs Lodge, which encompasses luxury accommodation, restaurant and spa.
Just 45 minutes south of Kauri Cliffs is the Waitangi Golf Course which offers more spectacular views, and is only a short drive from Paihia and Russell, the hub of the Bay of Islands, where you will find excursions out in the Bay of Islands, shopping, accommodation and relaxation. This is where the first government of New Zealand was sited, with a great story to be told of the settling of New Zealand.
The next most recommended world class golf course is Cape Kidnappers in the Hawkes Bay. Jonathan from our Napier car rental branch is a keen golfer so if you pick up your rental car here get the lowdown on this amazing place. Cape Kidnappers is also rated in the top 50 golf courses of the world. This course was designed by legendary American Golf Architect Tom Doak, whose goal was to design courses with holes like nowhere else, and from the following shot it looks like nowhere else.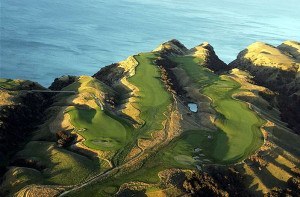 The Hawkes Bay is a beautiful place in New Zealand famous for it's wines, scenery and hospitality. There are some fantastic vineyards to visit with food and settings to match. The area has a warmer than average climate and grows a lot of the fresh produce that arrives on the tables of New Zealand households. Read our Weekend in Napier article for places to visit and activities in the area. 
If you are venturing to the South Island the Hill's Golf Course and neighbouring Millbrook can be found where the New Zealand Golf Open will be played in February 2014. Millbrook is sited just out of Arrowtown with a luxury resort on site. The Hills Golf Course is famous for its sculpture park commissioned by Michael Hill, a successful New Zealand Jeweller. Arrowtown and Queenstown also have some of the best scenery in New Zealand and is our top tourist destination as voted by visitors. Organise your rental vehicle with Jo and Paul at our Queenstown car rental branch. They live just down the road from these beautiful golf courses, and can give you all the information you will need. 

Make sure you keep your golf clubs in the boot of your rental car as you never know where you will stop and there is bound to be a golf course close by. There is even one on Stewart Island, located off the southern tip of the South Island.
Happy travels!
Heather
NZ Rent A Car