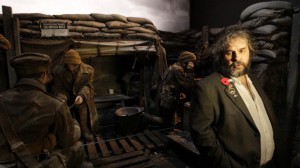 Kiwi film director Sir Peter Jackson has unveiled his latest project, a multi-media WWI exhibition which opened in Wellington last month to mark the centenary of the Gallipoli landings.  
As the exhibition's creative director, Sir Peter said his primary goal was to take the Great War out of stuffy, monochromatic history books and bring home the realities of military life.  "The soldiers didn't experience a black and white war.  I just wanted people to be able to see war…as the soldiers saw it."  To this end, Jackson chose not to display black and white images, instead having his cahoots at Weta Workshop colourise period photographs to emphasise the human element.
"It was a hopeless war, it was a war for no reason," Jackson said. "At no point was anybody fighting for anything that really meant anything. There was no Hitler, there were no Nazis or Holocaust that had to be beaten."
Sir Peter is a military history enthusiast himself, and contributed many items from his personal collection, including authentic weapons and uniforms.  He points out the tremendous technological advances made during, and because of, the war.  Soldiers went into the war on horses and came out of it in planes, tanks and submarines.  "The mechanisation we know of in the 20th century was born in this war," he said. Another Jackson artifact, a replica WWII Hawker Hurricane fighter, is currently on loan to the Warbirds and Wheels Museum in Wanaka. 
A special part of the exhibition known as the New Zealand Room is expected to evolve over the next few years to mirror key anniversaries, and focus on both New Zealand's contribution to the war, and the war's contribution to our history.  The next update, scheduled for this coming August, is the Trench Exhibition.  Along with the usual visual and aural experiences, this promises visitors the smell of the environment that thousands of men fought shoulder to shoulder in.  Specially developed aromas are to include dead bodies, rats, cooking, gun oil, and latrines.
The Great War Exhibition is slated to run until November 11, 2018 – the hundredth anniversary of Armistice Day.  See it at the former Dominion Museum in central Wellington.  Entry is free to the public.