In April 1924 New Zealand's first motorised schoolbus service began, with the acquisition of three specially constructed Model T Fords by Piopio School, located south west of Te Kuiti in the North Island's Waitomo district. Now, in honour of this pioneering moment, a replica bus is being built.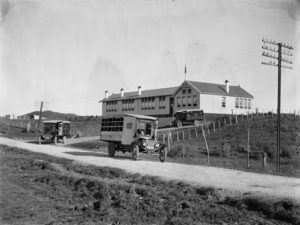 Once upon a time, before the horseless carriage gave us personal transport (and a rental car industry to luxuriate in), children walked to school. If they lived in rural communities, that walk could mean a daily trek of several miles along cart tracks, rain hail or shine. But eventually the wonders of automotive technology made inroads into the outskirts of provincial NZ. The availability of new buses meant that the thousands of tiny, single teacher primary schools peppered around the countryside could be consolidated into larger district schools. Consolidated schools were the future, and Piopio School was the first of its kind, rounding up pupils from Te Mapara, Paemako and Arapae schools. 
With the buses being so crucial to the establishment of their school, having a working tribute to this groundbreaking fleet seemed only right to former Piopio College principal Brian Tegg, who had toyed with the idea of a memorial schoolbus for years. An idea was all it was, until one day the chance to purchase a 1921 Model T commercial landed in his lap. The college trust was then approached and the process of raising funds began in mid-2015. A target of $80,000 was set, and is to include construction of a display garage.
The original buses were little more than motorised carts, very rudimentary adaptions of the ubiquitous Model T commercial chassis. A box-like frame behind the driver's cab was draped with roll-up canvas sides. Students, most of whom had never ridden in a motor car, squirmed excitedly on lengthwise wooden benches covered in leatherette. The conversion work on the replica is being handled by Laver Marine, who have a boatbuilding workshop near the college. Photos and original scale drawings are being studied to help them recreate the historic vehicle as authentically as possible, and passers-by will be able to check up on progress through their workshop windows.  
Fundraising is now reported to have reached nearly $50,000 thanks to grants from Waitomo District Council, Trust Waikato, and the Ministry of Education, and much local support. This means the conversion of the Model T can be completed, the next phase is a garage to be built on Moa Street, Piopio, to house it.
The project is expected to be completed by August 2016, so if you are travelling on SH3 near Te Kuiti stop in and have a look at this proud piece of Kiwi motoring heritage.
If you're interested in supporting this endeavour, check out their Facebook page, or you can make a donation via:
* SPARK's "GiveaLittle" webpage 
* The Trust's bank account: Westpac bank 03 0449 0107019 01
* Replica Bus Appeal c/o 1538C SH3 RD5 Te Kuiti 3985