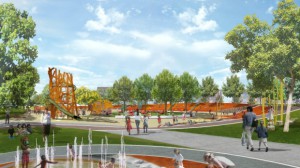 Author of more than 100 picture books, 40 novels, and 20 collections of short stories, Margaret Mahy is probably New Zealand's most celebrated children's writer. She was awarded the Order of New Zealand in 1993, and in 2006, the Hans Christian Anderson award for her contribution to children's literature. In conferring the honour, the press release recognised "one of the world's most original re-inventors of language. Mahy's works are known to children and young adults all over the world."
   In 2012, just months after her death, a lavish children's playground bearing her name was proposed in Christchurch. The concept was unveiled to the public, amid much hyperbole and sentiment, as a significant part of a $100m plan by the Christchurch Central Development Unit (CCDU) to rebuild and beautify the quake-bruised central districts, as well as provide a family space in the city. When completed the park will be the biggest and the best in the country, said the CCDU, and it would attract flocks of kids and their families back into the city. CCDU director Warwick Isaacs beamed "We are creating what will be one of the most amazing playgrounds in New Zealand, and potentially the world, and we are all very excited about seeing it come to life." A 2.5 hectare site was earmarked on the banks of the Avon River, tenders for design work and engineering were duly called for, and the design contract went to British firm BDP.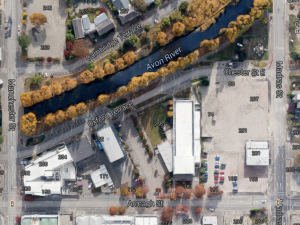 Within weeks of its announcement the project struck its first PR pothole. The block of land framed by Armagh, Manchester and Madras streets, included an empty grass plot in front of the Centennial Pools, which was already named in honour of another deceased children's writer, Elsie Locke. Her family was understandably concerned to learn – totally by chance – that this memorial park would be absorbed into the new Margaret Mahy Family Playground. If this isn't dereliction of duty on the part of CERA (Canterbury Earthquake Recovery Authority), consider that their initial design brief had made no mention of Elsie Locke Park (or the Centennial Pools), and so BDP were quite unaware of the memorial park at that location. Elsie's daughter Alison found it ironic that a plaque displayed there "in recognition of [Elsie's] voluntary work…for the preservation and enhancement of our city's heritage including the Centennial Pool" was about to be bulldozed, along with the pool complex itself. She contacted CERA, who soon reassured her that her mother's tribute would be incorporated into the Margaret Mahy Family Playground, as if that had been part of the plan all along. 
   At this point the public had not been consulted about the new playground or what it should include. However, in a stroke of PR genius children's contributions were sought through the BNZ Amazing Place competition, in which over 7000 school students submitted ideas for their ultimate play park. The successful entry is no longer available online (that I can find) so we can't gauge how many of the winning ideas made it as far as BDP's drawing boards.
   Then, in October 2013, another pothole. After nine months of design work, BDP's initial proposals were submitted to CERA, who were less than impressed and some tough questions had to be asked. It was starting to look as though employing a company with minimal awareness of Christchurch's culture, providing them with a too-broad design brief, and not inviting any public input – children's drawings notwithstanding – had been an expensive mistake. Hastily CERA revised the brief and employed local designers to assist BDP as "consultants", in essence throwing good money after bad. Suddenly seeing some political wisdom in seeking public feedback, the CCDU temporarily welcomed suggestions via their website.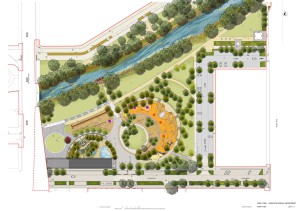 And lo, many changes were made. A key feature of the re-drawn playground is a 130m pathway described as a "story arc", featuring elements from the stories of Margaret Mahy and Elsie Locke, as well as narratives and imagery from the Southland Maori tribe Ngai Tahu. Other art pieces, landscaping and water features will serve as a backdrop to an array of bespoke playground equipment including a 10m high tower, 4m wide stainless slide, two flying foxes, and in-ground trampolines. Cherry trees from the Elsie Locke Park will be replanted in new locations.
   Work on the site continued. Demolition of the Centennial Pools took place in mid-2014 despite objections from many locals, and, apparently, the Christchurch City Council. The pools had become damaged during the 2011 earthquakes, but many felt that the millions needed to repair them was small change in light of the $30m price tag of the proposed park. The loss of the pools and this breathtaking cost, up from an original budget of $20m, soured the project for some Christchurch citizens who saw the playground as a low priority in a city recovering from a major disaster.
   It was now April 2015, the month that the "first elements" of the park were expected to be open to the public, but in fact tenders for the groundwork had only just been awarded. With the pools and other buildings out of the way, the laborious task of landscaping, plumbing, paving and laying electrical cables had no sooner begun when "hazardous material" including lead, was discovered in the ground. This caused further delays and required additional excavation to remove or bury the offending waste. By June things seemed to be back on track and work continued apace through the winter.  As of this writing, $3m worth of custom playground equipment supplied by Australian company PlayRope is being installed, and a revised opening target of the coming Christmas holidays has been announced.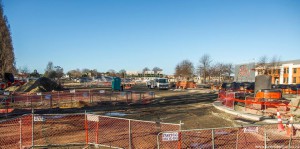 We'd love to hear from any Christchurch locals who have the chance to visit the site, especially with a camera, to give us a progress report. For those further afield, if you're planning to visit Christchurch in the summer I imagine the Margaret Mahy Family Playground will be a must-see, kids or not. And for anyone unfamiliar with her books, it's worth checking out your local bookstore or library for one of her brilliant, uniquely Kiwi reads. You don't get a $30m park named after you for nothing.