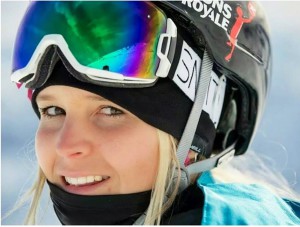 Anna Willcox-Silfverberg (known increasingly to the media as simply Anna Willcox) is an emerging star in an emerging sport. The 23 year old Kiwi is a native of Auckland's North Shore, and first learned to ski on the legendary slopes of Treble Cone whilst holidaying with her family when when she was four.  That family includes father Hamish Willcox, an Olympic sailing coach, and brother Daniel, a top 470 class sailor who won a bronze medal at the 2014 Rio Olympics. Fast forward to age nineteen, she discovered and embraced the challenge of slopestyle freeskiing, developing an obsession with the new-school sport.  Soon her life revolved around training, competing, and traveling: winters in Wanaka, Otago, summers in Breckenridge, Colorado.
Although still a newcomer to competitive skiing, Anna's aim was to qualify for the 2014 Winter Olympics in Sochi, Russia – a timely goal as 2014 was to be the inaugural outing for slopestyle skiing at an Olympic Games. In order to have any chance of being selected it was essential to build up an international profile, so with one season left she embarked on a tour of duty, competing in six world cups as well as other contests across three continents. After winning 3rd place at the Sierra Nevada Freestyle Ski & Snowboard World Cup Superfinals in March 2013 the dedication paid off, and she was rewarded with a spot in New Zealand's Olympic team.  In Sochi, she was faced with an overwhelming course, and warm, slushy snow conditions which had drawn criticism from numerous skiers and snowboarders. Anna had no complaints, though, and was thrilled to be representing New Zealand on the world stage in a fresh, innovative, growing sport. Anna placed 15th out of 23 skiers in the qualifications, just out of reach of the finals, but will be remembered by many as the girl with the messages "Hi Mum & Dad" and "I love NZ" inked onto her palms.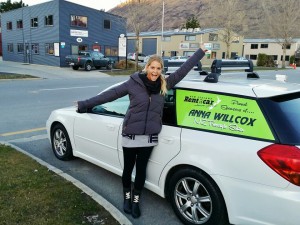 In the wake of the pressure and hopscotch of international events leading up to Sochi, she returned to her base in Colorado to channel the experience into a much longer-term training plan, and set her unwavering sights on a medal at the 2018 Games in South Korea. In what was becoming a familiar pattern, she was once again based in Wanaka for the 2014 winter ski season, and back in Breckenridge by mid-November. Unfortunately the US training season had barely begun when she tore ligaments in her left knee and had to fly home to have surgery.  The accident would keep her off skis for the next nine months.
Not about to have her Olympic hopes derailed, Anna threw herself into a strict regime of physio and gym training. Through what must have been a frustrating period, her positive and objective attitude never seemed to flag, and she was finally able to return to the slopes in August and catch the last two months of Kiwi snow.
NZ Rent a Car have been very proud to sponsor Anna in her quest for Olympic success, in the form of a rental car from our Queenstown branch for the last two winters. We wish her all the best for her imminent US training season and look forward to seeing her back again next year!
Be sure to follow Anna's progress, as we shall, via her Facebook page.