October 7,1917.  Count Felix von Luckner, known as the "Sea Devil", arrives in New Zealand for internment in our very own POW camp, Motuihe Island. As captain of the sailing ship Seeadler, he and his crew had sunk 14 allied merchant ships in less than seven months, with only one (accidental) loss of life. It should be no surprise that he escapes from Motuihe within weeks.
   Born in Dresden, Germany, Luckner left an aristocratic family and private schooling to run away to sea at the age of 13. Signing on to a Russian ship as Cabin Boy, he made his way to Australia.  There, in spite of his yen to become a sailor, he spent the next seven years racking up an impressive CV doing any job that took his fancy: selling magazines for the Salvation Army, an assistant lighthouse keeper at the Cape Leeuwin Lighthouse in Augusta, a kangaroo hunter, a circus worker, a professional boxer, a fisherman, a guard in the Mexican Army, a railway construction worker, a magician, and a bartender.
At 20 years old Luckner renewed his determination to become a sailor, and returned to Germany – not to see his family, but to pursue a career as an officer in the German Imperial Navy.  This he eventually achieved and by the outbreak of WWI, at 33 years old, he was an experienced and skilled seaman.
In late 1916 Luckner was finally appointed his own command: a 245 foot, three-masted sailing ship named SMS Seeadler ("Sea Eagle").  It's unlikely the German brass expected Seeadler, or Luckner, to last long. Large sailing vessels were slow, difficult to manoeuver, and their sails made them visible for many miles and thus highly unsuitable for military use. They were also so outmoded by this time that Luckner was selected, in part, because very few naval officers had experience on them.
Seeadler left port on 21 December 1916 with Captain Luckner and 63 others aboard, disguised as a Norwegian sailboat. Guns were carefully hidden below decks, Luckner and several others spoke Norwegian, and if boarded for inspection it was agreed that one of the men would dress up as the Captain's wife. Making her way south through the Atlantic Ocean, she soon established an efficient and rewarding routine. Encounter a ship and approach it under a variety of ruses. When within firing distance raise the German ensign to show hostile intent and order the ship to stop. Fire a warning shot if necessary. Take off the captured crew, and scuttle the enemy ship.  Repeat, frequently.  All of Luckner's captives reported being treated courteously and fairly, to the extent of being fed the same meals as the German crew, but soon he had nowhere left to contain his prisoners.  His solution was to capture a French vessel, remove some of the rigging to prevent them from giving chase, and place the 300 captives on it.
By April, allied warships were acutely aware of the havoc Luckner was causing, and his general whereabouts, so the Atlantic was becoming a perilous place to be.  By June, Seeadler had entered the Pacific Ocean, and America had entered the war. On receiving this last piece of news, Luckner turned his attention to US shipping, sinking three vessels in as many weeks before heading for the Society Islands to replenish supplies of fruit and fresh water, and to perform routine maintenance on his ship. On the tiny coral atoll of Mopelia, Seeadler finally met her end in an anti-climactic manner when, after 35,000 sea miles and 15 ships captured, she dragged her anchor and was wrecked on the reef.
Luckner ordered provisions, firearms, the German ensign, and two ships boats to be salvaged from the hulk, and considered what to do with his 63 crew, and 46 captives.  He decided to rig one of the ships open boats with sails and head for Fiji in search of a replacement ship, return to Mopelia for his crew and prisoners, and continue his raiding career.
Amazingly, after a journey of some 3,700km, they reached Wakaya Island, Fiji. Posing as shipwrecked Norwegians, he and his five-man crew were on the hunt for a suitable vessel to replace the Seeadler when a suspicious local called the police, and the party of Germans were arrested on September 21.  From there they were shipped the Motuihe Island, New Zealand, for internment.
Impressed by the apparent intelligence and good conduct of his new guests, camp commander Lt. Colonel Turner thought nothing of it when Luckner volunteered to help organise a Xmas concert, and gave the Germans access to tools and materials which, in hindsight, was regrettable.  Using items salvaged from their limited environment, they assembled a gorgeous sextant (now on display at Te Papa Museum, Wellington).  From the camp library they borrowed a school atlas, which they used to carefully chart the surrounding islands. The telephone lines to Auckland military HQ were also tapped by the prisoners, who could keep themselves abreast of their captor's actions. Like a lost episode of Hogan's Heroes with the sides reversed, Turner placed some of Luckner's crew, quite fortuitously, in charge of the upkeep of his fast motor launch, the Pearl.
Stocks of supplies, either stolen or handmade, were concealed from occasional searches by the guards, and on December 13 Luckner and ten others cast off in the Pearl, drifting her out into the fierce northerly wind until it was considered safe to start the engines.  Using their sextant and homemade map of the Hauraki Gulf, they rounded the Coromandel Peninsula and headed for the nearby Mercury Islands, sheltering in a secluded bay while scores of boats searched the Hauraki Gulf for the escapees.
Knowing that they needed a larger ship to make an ocean passage, they spotted and intercepted the 94 foot scow Moa, capturing its crew, once again without bloodshed, and headed for the Kermadec Islands for supplies. Arriving there on December 21, the anniversary of their departure from Germany, they were overtaken by the steamer Iris the following day, and surrendered peacefully.
By this time the story of the Sea Devil's escape, combined with the tales of his highly successful and ethical campaign as commander of the Seeadleer, made him a folk hero of sorts to both sides.  Following his re-capture, he was initially sent to Lyttleton to be interned at the prison at Fort Jervois, Ripapa Island. They were held on the island for a period of 109 days before being transferred back to Motuihe until the war's end in November 1918.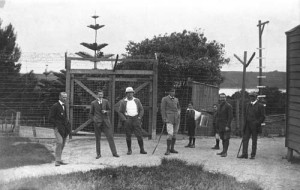 Repatriated to Germany, Felix von Luckner retired from the Navy in 1922, writing memoirs of his adventures and giving lectures in Europe and the USA.  However, he continued his love affair with the sea, sailing around the world more than once in his civilian life.  This included a lengthy visit to New Zealand in 1938. He died in 1966 aged 84, in Sweden.
For more reading on Motuihe Island and the Hauraki Gulf, check out Auckland's Hauraki Gulf – A Guide to the Islands 
Seeadler's German flag, engine room keys and other trinkets are in the Auckland War Memorial Museum.
There's even a video taken by a diver exploring the wreck of the Seeadler here.