Explore Taranaki by Hire Car

Taranaki is located roughly halfway between Auckland and Wellington on the west coast of the North Island and is home to the spectacular Mount Taranaki. Bordered on three sides by the Tasman Sea and surrounded by lush native bush and legendary gardens, Taranaki is an outdoor lover's paradise, offering plenty of activities for everyone. Taranaki's accessibility makes it easy to get here with an affordable hire car, allowing you to explore the area at your own pace.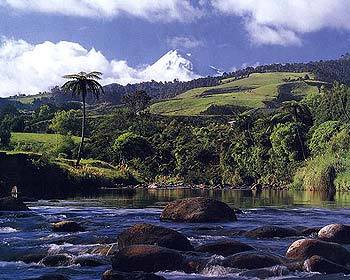 Mt Taranaki, New Plymouth
Mt Taranaki (also known as Mt Egmont) is set in Mt Egmont National Park and although it is an active volcano, it is far from a danger. The mountain's resemblance to Mount Fuji lead to it's use as the backdrop for the movie The Last Samurai and it is home to a number of scenic walking tracks and other mountain activities. Standing proud of the landscape, Mt Taranaki offers exceptional views of New Zealand's rural heartland – a must for photography lovers.
Mt Egmont National Park contains beautiful undisturbed native bush with many tracks maintained by the Department of Conservation, including eight huts offering basic accommodation for multi-day tramping trips.
The true attraction of Mt Taranaki lies in its appeal to lovers of board sports. With just a short drive, you can be skiing on the snowy slopes in the morning and surfing the ocean waves in the afternoon. The area is known for both its excellent ski fields and for having on of the world's most consistent coastlines for surfers. Weather conditions are predisposed to change frequently, so visitors are advised to take caution.
In nearby New Plymouth you will find Pukekura Park, a botanical garden of national significance and Pukeiti, an internationally renowned rhododendron garden, and an 11 km coastal walkway with a promenade that runs almost the length of the city providing dramatic views of the West Coast. You can also visit the Aquatic Centre for a fun day riding the hydroslides and enjoying the various pools, and pay a visit to Puke Ariki – a fully integrated and interactive museum, library and information centre.
Getting Around Taranaki
Need transportation to make the most of the region? Taranaki is 233km from Palmerston North and 239km from Hamilton. View our full range of affordable Hamilton rental cars and explore the best of Taranaki, New Plymouth and beyond at your leisure.
Check out our blog for more New Zealand travel and holiday advice.
View other New Zealand attractions in the photograph gallery.
Explore Mt Taranaki at your leisure in an affordable hire car from NZ Rent A Car.