Auckland North Shore
Explore the top tourist attractions and activities in Auckand's North Shore by rental car and set your own sightseeing timetable.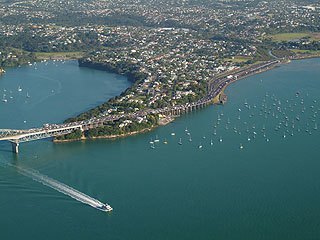 Auckland Habour Bridge, North Shore
Spanning the harbour, the Auckland Harbour Bridge is one of the most iconic structural landmarks of New Zealand's largest city. The best way to see it is as you drive across in a North Shore rental car either on your way to or from the city. It offers unbroken views over the water, and there are even guided bridge walking expeditions if you want to get an even higher look at the surrounding area.
North Shore Travel
Need transportation to make the most of the area? View our full range of affordable North Shore rental cars and explore the best of the North Shore at your own pace.
Check out our blog for more New Zealand travel and holiday advice.
Back to North Shore photograph gallery
Explore the North Shore at your leisure in an affordable rental car from NZ Rent A Car.